Posted by Lawrence Scaduto, Molly Evered on Feb 13th 2023
Have we told you lately that we love you?
Well, we do! And gift-giving happens to be one of our love languages (;
On 2/14/2023, every order over $75 will also receive one of our new favorite must-haves: this awesome 4-in-1 multi-charging cable! (While supplies last, not including shipping, limit one per customer.)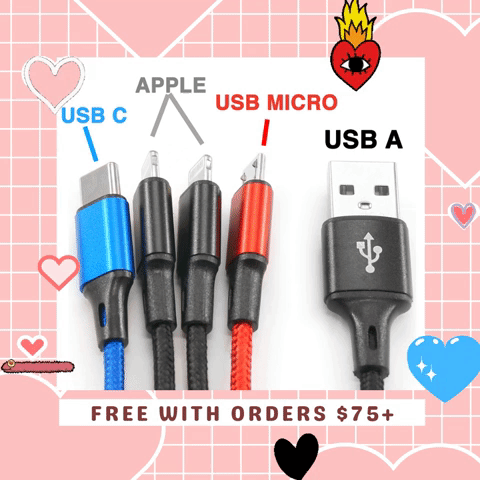 Hi, Lawrence here!
Picture me on my phone, ignoring my family, searching for something "important," when I randomly come across this very cable. "That's interesting. I'll get one." Cut to me excitedly running around the house like Will Ferrell and John C. Reilly in Stepbrothers over how many places I was able to consolidate and cut down to one cable!
- In the car where we usually need to charge two phones at one time.
- At my desk where I need to charge my phone, Airpods, camera, and portable battery pack.
- On the bedside table where I charge my tablet, headphones, and phone.
- In the kitchen where our phones usually need a pick-me-up during dinnertime.
This cable DOES IT ALL with one wall charger. (Say, what?!)
My random box of USB cables is now over flowing with unused power adapters and unused cables. (I really should throw most of these out at this point, but hoarders gonna hoard.)
I love these chargers so much that I bought a bunch and have been handing them out to friends and family.
And, now I'm giving them to you! I hope they make your life easier and declutter your outlets and surfaces like they did for me.