Posted by Lawrence Scaduto on Mar 30th 2023
I recently went on a wander through Music Millennium, a record store here in Portland that seems almost like a time capsule of my pre-MP3 youth. Forgotten was that feeling of excitement and adventure I got as a teenager, picking out CDs of bands I'd never heard of. It was always a gamble—do I get the CD with a cool cover . . . or the one with a cool title? (When you only had 20 bucks to spend—and it had taken about five grease-spattered hours slinging chicken plates at Boston Market to make that $20, well, it mattered!)
The trip got me thinking about my music discovery and how much things have changed and evolved over the decades, from songs I taped off the University of Miami college radio station to the one used-CD store I could walk to from my mom's condo to Napster, and then Oink's Pink Palace.
Prior to our current streaming era, it was a glorious time of music blogs. I found so many amazing, obscure treasures from music blogs back in the day, now all mostly defunct. So, before blogs fully fade into the background, I thought I'd commemorate a few of my favorites: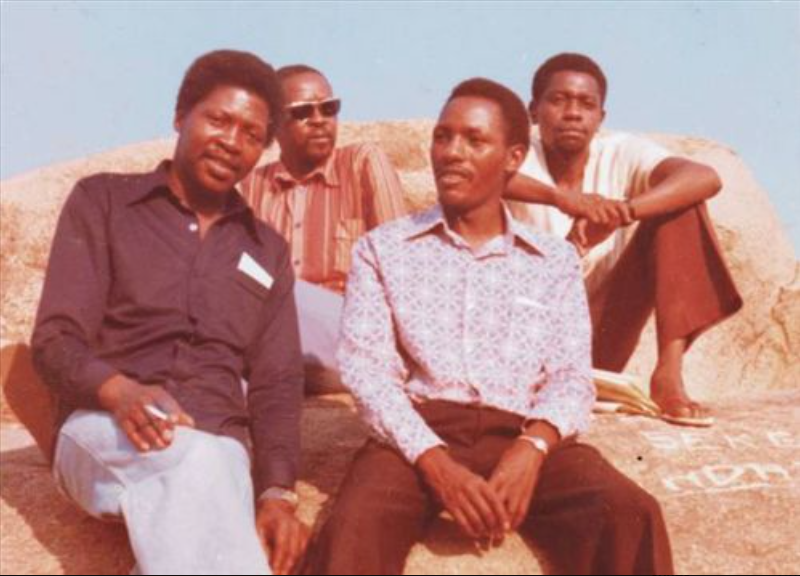 The Hallelujah Chicken Run Band just hanging out. Photo from AllMusic.com.
When I first discovered these songs and mixes, they all went into my extremely well-organized iTunes library . . . that now mostly gathers dust. I'm addicted to the convenience of Spotify just like everyone else, I guess. And the streaming services are a great convenience if you want to listen to "Bohemian Rhapsody" for the 645th time, but they don't offer recommendations on a personal level like this.
Reading these blogs, you would come to understand the admins of the blog—they would explain why the music touched them enough for them to rip a vinyl record and upload it. There are so many amazing documents of human expression lost to time because it's not financially feasible to upload old records to the streaming service (nor can the complications of copyright law allow this).
But, listening back to these songs, I am reminded of the power of music to communicate real feeling, even when you have no idea what the singer is saying.
What will be the next era of curation and recommendation? Sure, AI probably will be pretty good at showing you what you already like. But, will it be trained to challenge listeners to expand their palate? I think not. We won't want to impress the AI like we did when we were kids yearning to live up to that cool older brother/sister/whoever who gave you a mixtape that you found confusing at first. But, you would put in the time. Or, at least I would. Because if my older cousin Marcello said this was good music (shout-out to you, primo!) well, I better know why I don't like it. And, I am so glad I did, because on that mixtape was music from Gang Starr, Tim Dog, Black Sheep, A Tribe Called Quest, KMD, and pretty much every other classic 90s hip-hop song I still rock with the windows down on a nice day.
RIP music blogs. Long live music.